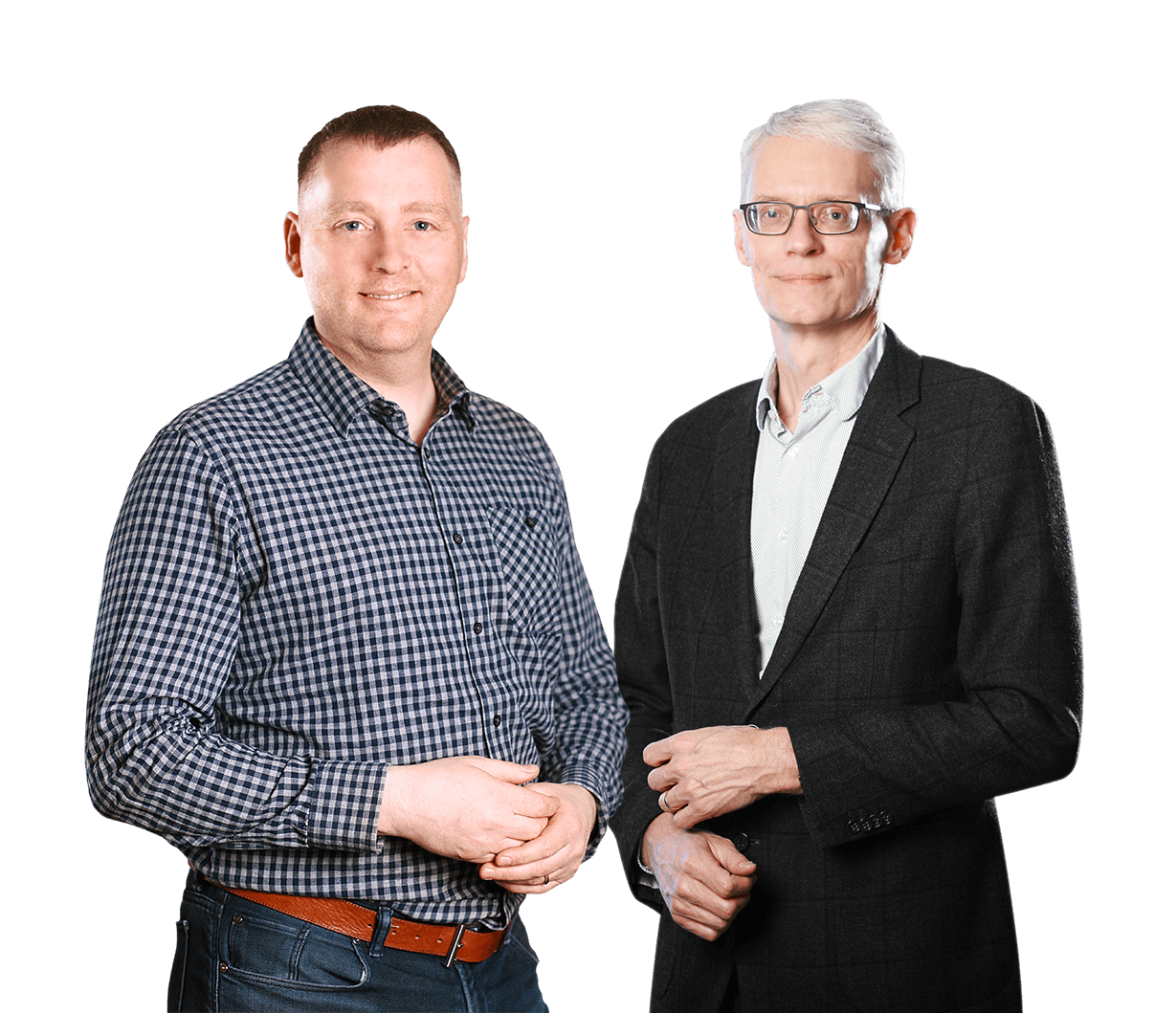 Prof. Sigurður Magnús Garðarsson– Dean and Professor, School of Engineering and Natural Sciences, University of Iceland & Hjalti Páll Ingólfsson– Managing Director of GEORG 
GEORG is a resilient, strong, and independent cluster cooperation, as last year demonstrated.  The COVID-19 year, 2020, will be remembered as the year of many challenges, adoptions, and new working ways.  It taught us that even though we master new online teamwork techniques, making it in many ways more efficient and economic, the need for direct human communication and connection is ever more necessary. 
We look forward to meeting our friends again, hopefully before the end of this year, and we are optimistic enough to believe that by the end of October, we will all be able to meet in person at the WGC2020+1 in Harpa Reykjavik.  
Despite the challenges of 2020, GEORG continues to grow, with yet again a record-breaking turnover of over 106MISK. We managed to conclude the DEEPEGS project with an elegant book of publications summarising the projects science work.  We continued to operate GEOTHERMICA Office, fostering the growth of the network even further. In 2020 a second call was concluded, and in 2021 we will be managing a joint call between GEOTHERMICA and the JPP Smart Energy Systems network, focusing on heating and cooling. GEORG's important task is to be the Secretariat for the Deep Geothermal Implementation Working Group (DG-IWG).  The DG-IWG aims to move forward with the Deep Geothermal Implementation Plan (DG-IP), endorsed by the SET–Plan Steering Committee, in order to reach the goals of placing Europe at the forefront of the low carbon energy scene.  GEORG is taking an active part in running the GECO project office together with the Projects Coordinator, Orkuveita Reykjavíkur. We lead the project's communication and cost/benefit analysis of the technology, to name a few tasks.  Finally, GEORG has taken an active part in the exciting projects GEOENVI and Crowdthermal and pushed through several significant project proposals, internationally and domestically.  
The year 2020 was a turning point for the KMT (Krafla Magma Testbed) project. Following extensive preparation work and strong international support to the project, the Icelandic Government was willing to support the project with a 100MISK founding grant.  In addition to that, the project lead is in negotiation with funding authorities in the UK, Iceland, and Italy to further support towards the project to fully finance its initial steps towards a complete magma testbed at Krafla.   
The minister of tourism, industry and innovation recently introduced a new cluster strategy for Iceland.  The strategy sets out a vision that by 2030 Iceland will be one of the World's leading nations in terms of sustainable economic development, competitiveness, and general prosperity.  We celebrate this new strategy and appreciate its acknowledgement of the importance of cooperation like GEORG.  Renewable energy, and geothermal in particular, are among the strongest pillars of Iceland's economy and hold enormous innovation opportunities in terms of a circular economy, sustainability and carbon neutrality.   GEORG will continue to foster cooperation, build bridges, and support innovation, for Iceland to maintain its competitive advantage in renewable energy utilisation. Together, we can make Iceland the leading nations in terms of sustainable economic development and competitiveness by 2030.